Rescue Team Delta is a Non-Governmental and Not-for-Profit voluntary organisation.
The team was established in 2018, based in Piraeus and is a member of the General Secretariat for Civil Protection of Greece with Registration Number 17/2019.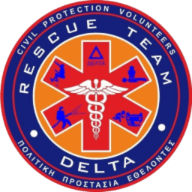 Rescue Team Delta provides aid without any racial, religious, political, economic, social or other type of discrimination. The values we serve are:
Selflessness, offering, sense of responsibility, cooperation, support, solidarity, justice, education, communication.
Find people who are still trying to make the world and themselves better…
Join us… Be a Volunteer!